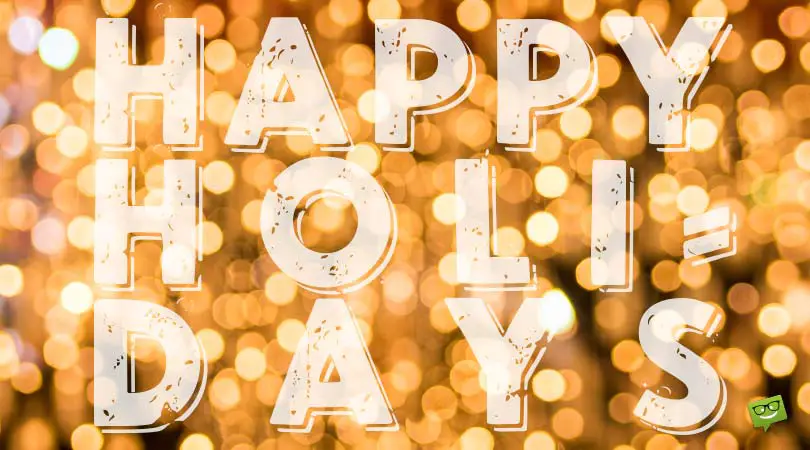 Christmas is not just a time for family sentiments. This festive season is the perfect opportunity to remember your staff, clients, and business partners and acknowledge what their support has meant to you throughout the year. Your professional relationships mean a great deal to you, and crafting the perfect Christmas wish goes a long way to fomenting these connections.
Sending professional Christmas wishes doesn't have to be perplexing. Here are several Christmas card messages that can help you convey the right sentiment with the appropriate professional tone. The key to the perfect holiday message is to make it short yet personalized.
---
Christmas Card Messages for Clients
Give your clients a message to show your gratitude for their support this past year.
This Christmas, I want to express how thankful I am for clients like you. Happy Holidays!
Having you as a client has brought many blessings over the years. Have a terrific holiday!
Working with you this year has been a lot of fun. Have a Merry Christmas and a fabulous New Year.
My work is special with clients like you. Have a memorable and happy holiday season.
We appreciate the patronage you've shown us these past months. Having clients like you is a delight. Happy Holidays!
[Company] is the company it is because of patrons like you. Thank you, and have a Merry Christmas!
You're a dependable client, and we appreciate that, especially during these uncertain times. Have a fun Christmas.
We appreciate your business. May you have a holiday season filled with cheer.
[Company] is thankful for delightful patrons like you. Merry Christmas and Happy New Year!
We wish you a wonderful holiday season filled with fun and great memories. Thank you for supporting our business.
We're grateful for your business this Christmas, New Year, and all the other seasons. It's excellent having clients like you.
This holiday season can't go by without our saying "Thank you" for your business. Best wishes in the New Year!
We know how important it is to have great clients like you. We appreciate your business and wish you an even better new year.
Christmas Quotes for a Business Partner
No one creates a successful business alone, so try one of these greetings to wish your partner a happy holiday season.
[Name], you've been a magnificent partner, and I value our work together.
Merry Christmas, [name]! I couldn't ask for a better partner. Have a great holiday.
Wishing you nothing but the greatest things this Christmas. You've been a fantastic partner. I hope you get a well-deserved break.
You've been a brilliant partner and wonderful friend this year. Have a terrific Christmas and Happy New Year!
Words can't express how much I admire your effort and devotion to our partnership. Have a great Christmas!
I'm lucky to work with a partner like you. You are the best part of this company. Have a fantastic holiday.
Here's to a wish for a great Christmas to my partner. Thank you for your hard work and friendship!
I hope you enjoy Christmas and New Year's Day with the ones closest to you. It's been enjoyable working with you, and I look forward to even greater success with you.
[Name], I wish you the finest holiday ever. Working with you is the best part of this business venture, and I see an even brighter future with you.
During the holidays, it's easy for me to thank you for your camaraderie and partnership. I wish you the best that Christmas can bring you.
I'm so glad I'm working with a wonderful partner and friend, especially at the end of this hectic year. Thanks for keeping me well-balanced!
My work is so much more fun since I've partnered with you. Enjoy your Christmas and ring in the New Year with style.
Also read these
Christmas Wishes for your Boss
Christmas Card Messages to Employees
These wholehearted messages show the right gratitude for the people who make your company run like clockwork.
No matter what your holiday plans involve, you should know we thank you for all you do for [Company]. May you and your family's Christmas be merry and memorable.
Have fun this holiday season because you've earned it. Thank you for your fine work during the previous year.
Your positive attitude is admirable, and we at [Company] appreciate it. Have a Merry Christmas and Happy New Year!
This Christmas, please know that we value your hard work and dedication. We can't wait to see what you bring to [Company] in the new year.
Thanks for being part of our team. Enjoy your Christmas and have a Happy New Year!
[Company] is a thriving success due to the excellent work of great employees like you. Thanks for all your hard work this past year.
We've enjoyed seeing you blossom professionally this year. Enjoy your holiday, and we look forward to your continued contributions.
Thanks to your dedication and hard work, [Company] is the top-performing enterprise it is today. Have a great Christmas and Happy New Year.
Thank you for your work this past year. You bring so much to [company]. Here's to wishing you a marvelous holiday season.
We want to show our gratitude for how dedicated you've been to [company] and for helping make it a powerful force in our industry.
We're sincerely grateful for the enthusiasm and effort you've shown our department this year. Have a memorable and joyous holiday season.
Christmas Card Wishes for your Secretary
Any of these greetings will be perfect for your secretary, the one who really keeps things running.
Secretaries like you make running this department so much easier. Thank you for your hard work this year.
Your diligent work means so much to us. We wish you the best of the holiday season.
It's enjoyable to work with you. Your positive vibes are contagious.
Your secretarial work is unparalleled, and we hope you've enjoyed working with us this year. We wish you a Merry Christmas and a fabulous New Year.
This year, you were the epitome of efficiency and commitment. I wish you a blissful and festive holiday season with the ones you love.
You're a remarkable secretary! Thank you for making this place run like clockwork. Enjoy your holiday.
Merry Christmas and Happy New Year to a brilliant secretary who knows how to keep the rest of us on our toes! Have a terrific holiday.
Everyone notices what a dependable and talented secretary you are. May you have the best of holidays.
I couldn't have asked for a better secretary than you. May your Christmas wishes come true because you deserve it!
Thank you for the way you've helped us grow this past year. I hope you enjoy your holiday and your time off.
To the secretary who knows how to solve every problem: Have an amazing holiday, and have the best Christmas ever.
Having you as a secretary has made things less stressful, especially during the holiday season. Thank you for your admirable work, and Merry Christmas.
---
You may also like:
The 250 Warmest Merry Christmas Wishes and Cute Cards with Season's Greetings
What to Write in a Christmas Card: Messages and Greetings
That Christmas Spirit! | 31 Merry Christmas Images
Jingle All the Way | The Funniest Christmas Memes
Click here for our best birthday wishes.


Source:www.birthdaywishes.expert