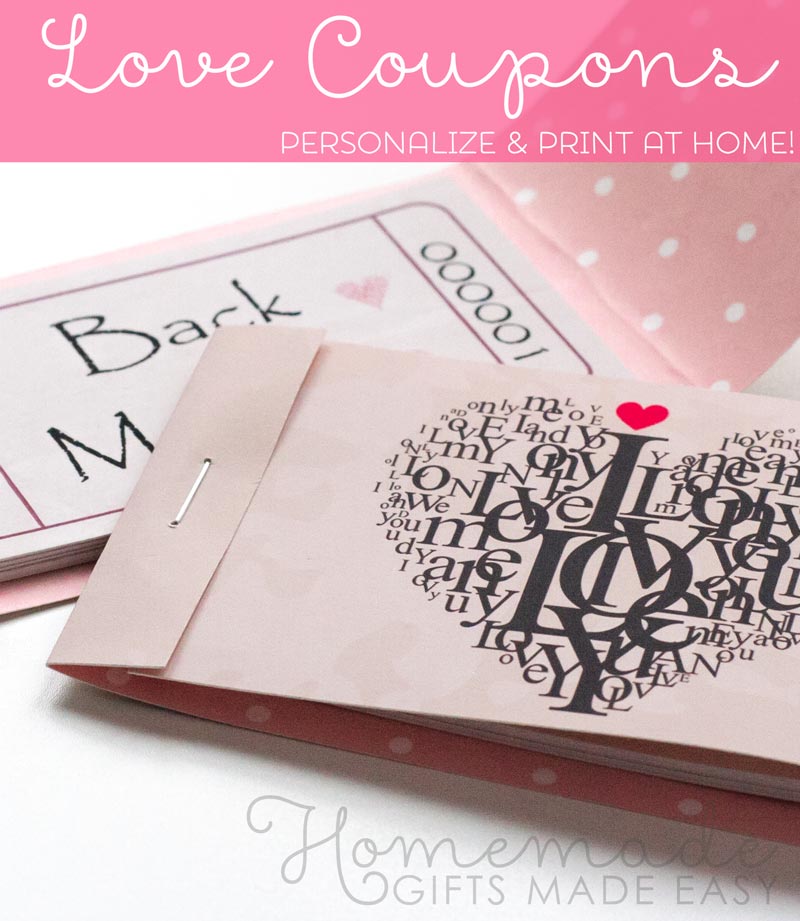 Christmas gifts for boyfriends can be hard to buy! Will he like it? Is it too cute and love-y? Is it too practical and not special enough? Don't stress… we've got some great and unique ideas on this page we think he'll love!
On this page we've collected some of our most popular printable gifts for men. They are super easy to personalize and make at home and it's not just something random you've picked up in the store.
If you're looking for more craft-based Christmas gift ideas for your boyfriend, check out our collection of tutorials on our boyfriend gifts page.
Christmas is such a wonderful excuse to be romantic! These printable love coupons are a gift that keep giving, and with editable text you can tailor them perfectly to your boyfriend.
They are a fabulous last minute homemade Christmas gift idea too, for those of you who've left it a little late this year…
Make a personalised poster of all the things you and your boyfriend love doing together!
These posters are very quick to make and have lots of fabulous color palettes to choose from. It's such a simple idea and a great way to celebrate your relationship and why you like hanging out so much!
I made one of these posters for my husband and he loves it! It's so fun to think over all the adventures we've shared together.
"Best Recipe" Boyfriend Poster
Well, we initially came up with this poster gift as a mother's day gift idea, but our visitors have used it for so much more than that, and we think it's a great Christmas gift for boyfriends too!
If your man is a whizz in the kitchen… or even if ramen noodles is his speciality… then this kitchen poster could be a sweet (and ego-boosting) addition to his kitchen!
And it doesn't have to be a savoury or sweet dish, you could choose a cocktail, beer, or other beverage too.
Click here to personalize and print your poster
Boyfriend Definition Poster
Personalize and print out your own boyfriend definition poster where you get to define just why your boyfriend is so fabulous.
Okay, maybe this one isn't for every guy, but if your man is a softy at heart this could be for you!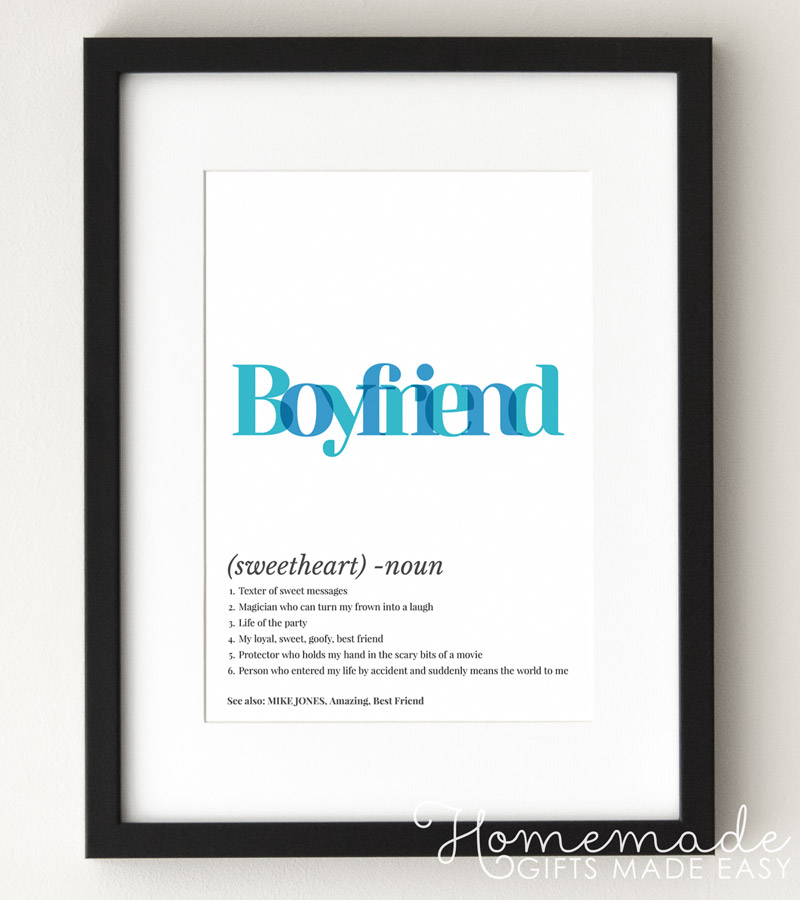 Click here to personalize and print your poster
Personalized "Likes Poster"

A "likes poster" is more than a just a gift, it's a compliment, because it shows how well you know a person and all the quirky things they like.
Making your poster is easy – our poster generator takes care of all the formatting for you.

Generate my poster now

Other people also like…
We hope you enjoyed these Christmas gift for boyfriend ideas, and that you've found something special you can make this year.
Do check out our boyfriend gifts page for more craft-based boyfriend gift ideas, and there are plenty of general homemade Christmas Gift ideas here too.

Source:www.homemade-gifts-made-easy.com