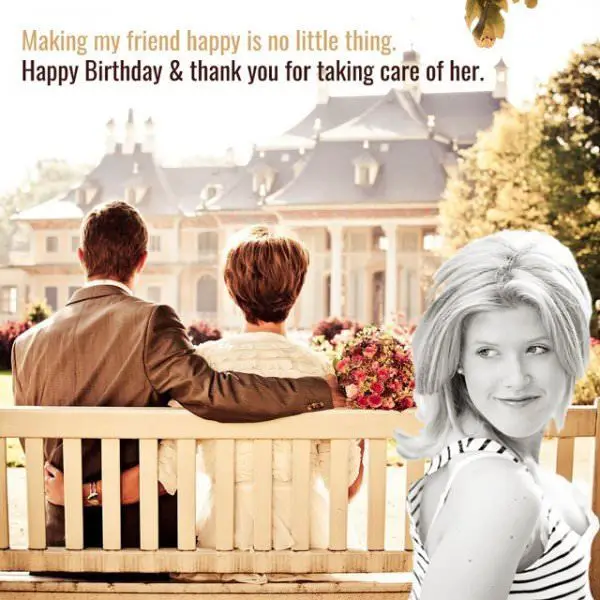 Although trust is essential in a friendship, there are times that a woman feels that special caution has to be given to the words she'll pick to send wishes to her friend's husband.
Of course, sending carefully expressed birthday wishes doesn't mean that these wishes should necessarily be formal and serious. Our collection of birthday wishes for a friend's husband will give you ideas of things to say without crossing any line of discretion, while staying fresh and original. Please tell us what you think!
* where [Laura] put your friend's name.
---
Warm & grateful
Making my friend happy is no little thing. Happy Birthday & thank you for taking care of her.
Happy Birthday! My sincere feelings of gratitude for being a caring husband to my friend.
She and I have been friends forever, but I've never seen her as happy as since she met you. Happy Birthday, so great to have you close to her!
With all the respect and human affection possible, happy birthday & thanks for being there for my friend.
Happy Birthday to you! Some might call it fate, I'll call it universe, but I thank life for keeping my friend so happy with you on her side.
So glad to talk to my friend every day, finding out just how lucky she feels. As a good friend, I'll have to agree with her and wish you Happy Birthday on this special day of yours.
I considered my friend lucky to be with you when I saw for myself how much you love her. Happy Birthday, thanks for being a great husband to such a lovely friend of mine!
There comes a moment in a person's life when they feel they feel lucky to have truly found their other half. Thanks for being that supportive other half to my lucky friend. Happy Birthday!
They say life's what you make it, but on this birthday of yours I can't help thanking God for bringing you into Laura's life. Happy Birthday & God bless.
We say [Laura] is lucky to have you, but was it only a matter of "luck"? Thank you for your love & support to my friend.
As I've known and respected [Laura] for a long time, I have to admit she looks like a new, complete person beside you. I thank you as a friend of hers & wish you "Happy Birthday".
---
Funny & Humorous
As long as you keep on being the husband that you are to [Laura], I won't be asking your age, neither today nor on any birthday! Happy Birthday, stay young and strong!
I know you'd say you do it also for utilitarian ideals, but thanks for being my friend's other half. Happy Birthday, have fun tonight!
To see my friend shining beside you seems too big to attribute to you only! Happy Birthday & thank God for sending you by Laura's side! ????
On a scale from the Hunchback of Notre Dame to George Clooney, which rating of you matters is mainly the one [Laura] gives you! Happy Birthday, man!
Hey, my best friend says you're a bargain, so let me say "Happy Birthday" to this discount item!!!
Sometimes it's the color of a bag you hold that matters, some other times it's the fabric's quality and resistance. I hope [Laura] is keeping you for both reasons, you old bag! Happy Birthday!
Just when I had started getting a bit tired of being [Laura's] therapist, a man came to replace me! Happy Birthday & let's consider this wish medical discretion data. ????
---
Also read:
Friends Forever : Birthday Wishes for a Best friend
Top 100 Birthday Wishes for your Friends
100 Ideas for Birthday Wishes for your Husband
Our Happy Birthday Collection
Click here for our best birthday wishes.


Source:www.birthdaywishes.expert