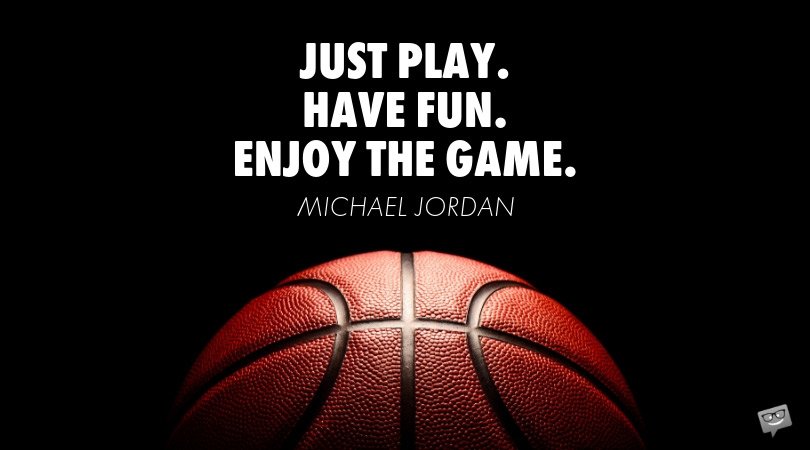 We are glad your search for famous quotes about sports has brought you here. This page boasts of several dozens of memorable sports quotes from some of the most famous personalities in and outside the sporting world.
Peruse our huge compilation below and feast your eyes on the profoundly beautiful and inspirational lines we have put together just for you.
Motivational Sports Quotes
Winning isn't everything, it's the only thing. Vince Lombardi
Winning is not a sometime thing; it's an all time thing. You don't win once in a while, you don't do things right once in a while, you do them right all the time. Winning is habit. Unfortunately, so is losing. Vince Lombardi
Winning isn't everything, but wanting it is. Arnold Palmer
The only way to prove that you're a good sport is to lose. Ernie Banks
I always felt that my greatest asset was not my physical ability, it was my mental ability. Bruce Jenner
I love the winning, I can take the losing, but most of all I Love to play. Boris Becker
Finding good players is easy. Getting them to play as a team is another story. Casey Stengel
Winning solves everything. Tiger Woods
Persistence can change failure into extraordinary achievement. Marv Levy
If you can't outplay them, outwork them. Ben Hogan
Do you know what my favorite part of the game is? The opportunity to play. Mike Singletary
Continuous effort — not strength or intelligence — is the key to unlocking our potential. Liane Cardes
I tell the kids, somebody's gotta win, somebody's gotta lose. Just don't fight about it. Just try to get better. Yogi Berra
I'll do whatever it takes to win games, whether it's sitting on a bench waving a towel, handing a cup of water to a teammate, or hitting the game-winning shot. Kobe Bryant
When I step on that basketball court, I'm thinking about basketball, I'm thinking about winning but there's so much that goes into thought about how I'm going to open this game up to others. It's so much more than just basketball. Carmelo Anthony
A champion needs a motivation above and beyond winning. Pat Riley
Winning takes precedence over all. There's no gray area. No almosts. Kobe Bryant
Losing feels worse than winning feels good. Vin Scully
I never did say that you can't be a nice guy and win. I said that if I was playing third base and my mother rounded third with the winning run, I'd trip her up. Leo Durocher
Winning isn't everything, but it beats anything that comes in second. Paul Bryant
Yesterday's home runs don't win today's games. Babe Ruth
Winners never quit and quitters never win. Vince Lombardi
I hated every minute of training, but I said, 'Don't quit. Suffer now and live the rest of your life as a champion. Muhammad Ali
Imagination has a great deal to do with winning. Mike Krzyewski
Show me a gracious loser and I'll show you a failure. Knute Rockne
The key is not the will to win… everybody has that. It is the will to prepare to win that is important. Bobby Knight
We play a sport. It's a game. At the end of the day, that's all it is, is a game. It doesn't make you any better or any worse than anybody else. So by winning a game, you're no better. By losing a game, you're no worse. I think by keeping that mentality, it really keeps things in perspective for me to treat everybody the same. Tim Tebow
It's not whether you win or lose, it's how you play the game. Grantland Rice
Inspirational Sports Quotes
When you win, say nothing. When you lose, say less. Paul Brown
A champion is afraid of losing. Everyone else is afraid of winning. Billie Jean King
The biggest thrill wasn't in winning on Sunday but in meeting the payroll on Monday. Art Rooney
It was never about winning medals or being famous. Nancy Kerrigan
I think my greatest victory was every time I walked out there, I gave it everything I had. I left everything out there. That's what I'm most proud of. Jimmy Connors
Winning is the most important thing in my life, after breathing. Breathing first, winning next. George Steinbrenner
You learn more from losing than winning. You learn how to keep going. Morgan Wootten
It kills me to lose. If I'm a troublemaker, and I don't think that my temper makes me one, then it's because I can't stand losing. That's the way I am about winning, all I ever wanted to do was finish first. Jackie Robinson
I've certainly had periods when I felt like life was winning and I was losing, so I think everybody can relate to that quandary — the temptation to give in, to give up, and then what it takes to keep going. Malcolm Gets
Winning is great, sure, but if you are really going to do something in life, the secret is learning how to lose. Nobody goes undefeated all the time. If you can pick up after a crushing defeat, and go on to win again, you are going to be a champion someday. Wilma Rudolph
Competing at the highest level is not about winning. It's about preparation, courage, understanding and nurturing your people, and heart. Winning is the result. Joe Torre
The secret to winning is constant, consistent management. Tom Laundry
No matter how much you've won, no matter how many games, no matter how many championships, no matter how many Super Bowls, you're not winning now, so you stink. Bill Parcells
At a young age winning is not the most important thing… the important thing is to develop creative and skilled players with good confidence. Arsene Wenger
I just think winners win. And guys who won all the way through high school and college, the best player at every level, they have a way of making things happen and winning games. Tony Dungy
All I cared about in tennis was winning. Pete Sampras
Famous Sports Quotes
Just play. Have fun. Enjoy the game. Michael Jordan
Nothing is black-and-white, except for winning and losing, and maybe that's why people gravitate to that so much. Steve Nash
I'm a mad dog whose only concern is winning. Charles Barkley
 couldn't find the sports car of my dreams, so I built it myself. Ferdinand Porsche
I'm a pretty good winner. I'm a terrible loser. And I rub it in pretty good when I win. Tom Brady
I've missed more than 9000 shots in my career. I've lost almost 300 games. 26 times, I've been trusted to take the game winning shot and missed. I've failed over and over and over again in my life. And that is why I succeed. Michael Jordan
One man practicing sportsmanship is far better than 50 preaching it. Knute Rockne
There are more important things in life than winning or losing a game. Lionel Messi
Most people give up just when they're about to achieve success. They quit on the one yard line. They give up at the last minute of the game one foot from a winning touchdown. Ross Perot
For me, winning isn't something that happens suddenly on the field when the whistle blows and the crowds roar. Winning is something that builds physically and mentally every day that you train and every night that you dream. Emmitt Smith
The person that said winning isn't everything never won anything. Mia Hamm
The critics are always right. The only way you shut them up is by winning. Chuck Noll
I used to think that losing made you more hungry and determined but after my success at the Olympics and the U.S. Open I realise that winning is the biggest motivation. Andy Murray
Winning isn't getting ahead of others. It's getting ahead of yourself. Roger Staubach
I'm never tired of winning, and I'm never tired of skiing. Lindsey Vonn
You can't win unless you learn how to lose. Kareem Abdul-Jabbar
If you're going to play at all, you're out to win. Baseball, board games, playing Jeopardy, I hate to lose. Derek Jeter
---
You may also like:
84 Gym Quotes to Get You Off The Couch
50 Insightful Famous Quotes about the Environment
Oscar Wilde Quotes | His Famous, Witty Words on Love and Life
Click here for our best birthday wishes.


Source:www.birthdaywishes.expert